The decorations have been up since December the 1st, all the presents are wrapped, the fridge is fully stocked, but have you thought about how you're going to dress your table for the all important day? If not, we've got some tips and pointers to get you started.
Firstly, decide on your theme. Try to incorporate your theme with your current décor so that they compliment one another. If you're stuck for ideas then be inspired by our 2018 Christmas Trends shown below. Featured from left to right are, Scandinavian Noel, A Winters Walk, Enchanted Forest and Magical Moments.
Once you've established your theme, it's time to think about what decorative pieces you want to include. We recommend a centre piece for your table to inject elements of tradition and sophistication. The Casa Decorative Reindeer Tea light Holder in silver acts as a great centre piece for your table whilst also delivering an atmospheric glow whilst you're tucking into your turkey. For a more contemporary centre piece, try filling a vase with baubles or fairy lights. Be mindful of the height of your centre piece as you don't want to block the view of someone opposite.
 Casa Decorative Reindeer Tea light Holder
Monsoon Filigree Collection
The food you cook is super important, but so is the tableware that you serve it on. We're loving the Monsoon Filigree collection this year. Perfect for hosting and fine dining whilst also providing practicality and versatility, making it an ideal set for everyday use. This collection by Denby offers a delicate interpretation of a tradition filigree pattern with a symmetrical design that features shimmering silver on fine, soft cream china.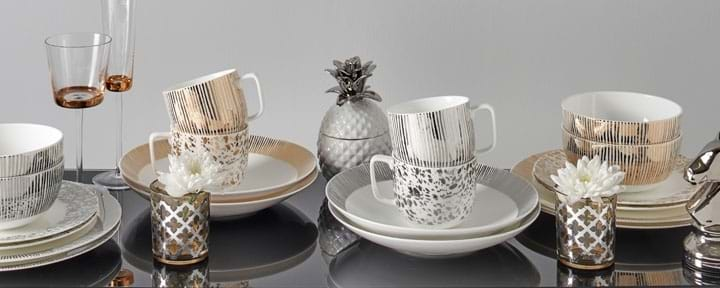 If you want to inject some sparkle to your Christmas table then look no further than our Casa Luminosa range. Glamourous and eye-catching, this collection is made from bone china, etched with silver or gold mirrored detailing.