Our Bilston showroom features new stunning displays to provide an abundance of inspiration. Perfect if you're looking for a new kitchen or looking to refresh your existing space. Our expert designers are on hand with advice and design inspiration to help turn your kitchen dream into a reality.
The beautiful showroom located in our Bilston store is there for you to browse, find inspiration and shop for your new kitchen. Any questions you may have about design and functionality can be answered by our kitchen designers who can also provide you with the latest technology and kitchen appliance inspiration you may not have considered.
The new Sheraton displays boast a modern finish with quartz worktops that stand the test of time and will help complete your kitchens whole aesthetics. The Manor House Painted Limestone is inspired from the Shaker design which makes the design the perfect choice for a modern kitchen setting whilst still nodding to a traditional element.
Navy blue tones was set to be one of the most prominent kitchen trends for 2019, and it's no exception that the Manor House Oxford Blue range beautifully boasts this colour palette. The clean lines illuminate the ranges sleek aesthetic, with the contrast of the quartz worktop against the deep navy cabinets creating a timeless finish. Inserts of metallic hues in kitchens often prove to be the perfect finish and this range showcases bold, silver knobs that are both practical and act as a decorative element.
The boldness in the Manor House Oxford Blue range allows you to inject as much complimenting kitchen accessories as you would like. Silver hues would work especially well in order to tie in with the ranges cabinet handles and knobs. White and silver appliances placed on the silver quartz kitchen worktop can act as a touch of decorative elements as well as being everyday practical products too.
If maintaining a clutter free kitchen is something you prioritise, then the Manor House range is your answer with its abundance of storage solutions. This way, your worktops can remain spotless with just your essentials on display so to avoid cluttering the kitchen space. If you tend to hoard items, the abundance of drawers, cupboard spaces and side storage solutions will neatly store your essentials away.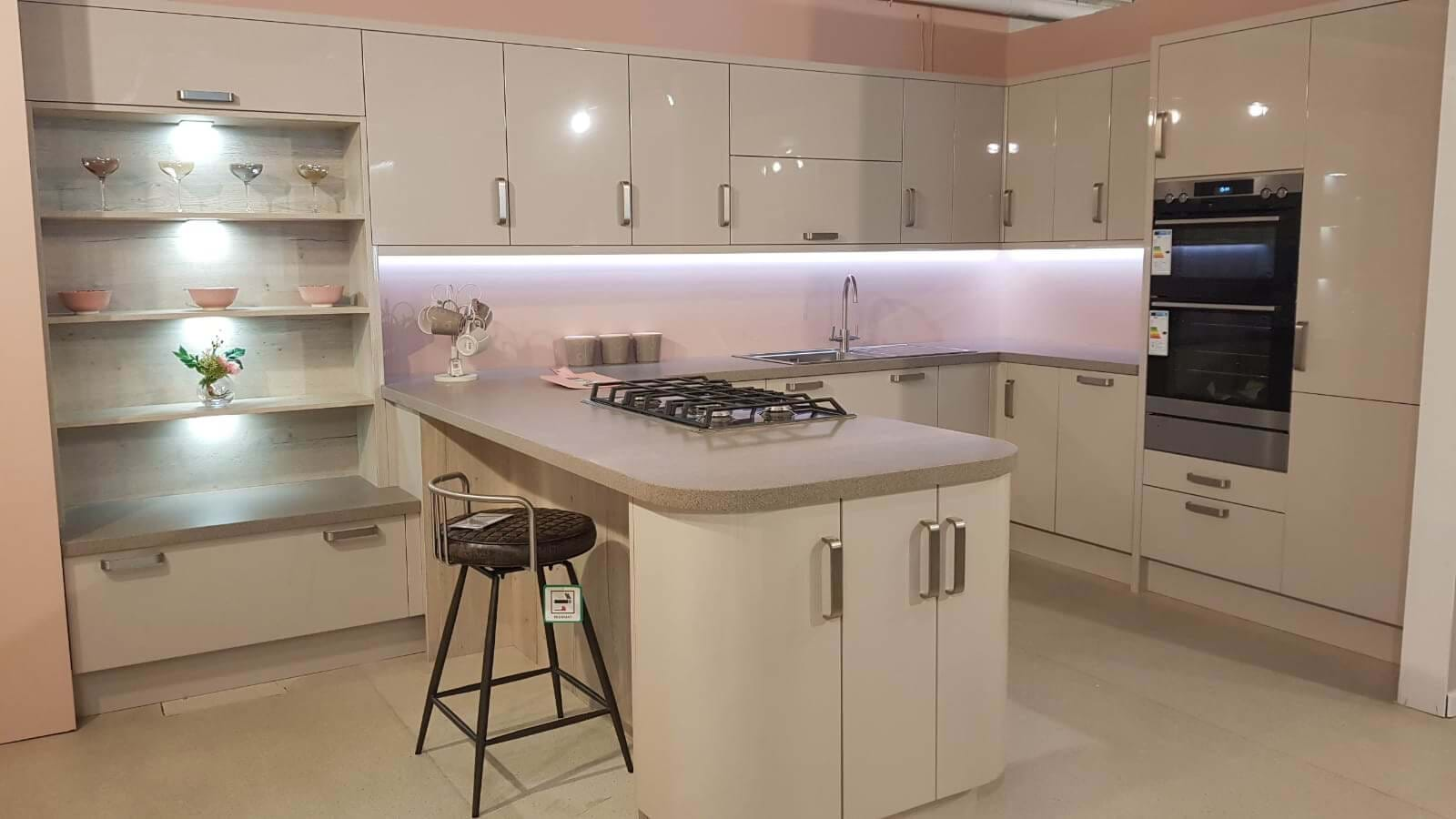 With the amount of time we spend cooking, socialising and entertaining in the kitchen increasing, it's important to consider the perfect lighting solutions to suit our space. Installing LED lights are the perfect option if you'll be hosting dinner parties and you want the evening to continue after your guests have been fed. They create an ambience and a cosy atmosphere, especially with some LED ranges providing an option of colours such as green, red and blue that can be changed to suit your mood and the feel of the occasion.
Visit our Bilston kitchen showroom to explore the wonderful Manor House range along with so many other beautiful displays today. You'll walk away feeling inspired and ready to upgrade your existing kitchen. Alternatively, you can book a free design appointment and speak to one of our experienced designers that can answer any questions you may have.