Our three main styles of Shaker, Traditional and Modern kitchens will give you the choice between a modern or traditional look but can also be designed to be a combination of both. Select and combine any of these styles with a brand or finish such as painted or gloss to create a truly flexible and unique design that can be a mixture of modern and traditional.
Effective and stylish lighting is an essential part of your new kitchen, helping you to undertake everyday tasks including food preparation and cooking as well as socialising with family and friends.
EXPLORE LIGHTING
Kitchen knobs and handles will have a big impact on the look and feel of your new kitchen. At Leekes we offer a wide variety of designs in a choice of sizes, shapes, colours and finishes so it's important to think about what will work best with your designs.
EXPLORE KNOBS & HANDLES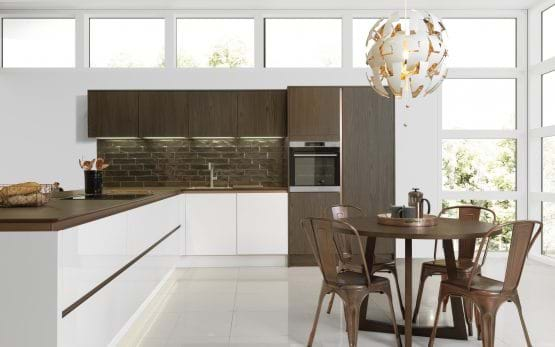 Decorative wall and floor tiles are a versatile option to incorporate into your kitchen scheme. Materials including stone, ceramic, glass and porcelain are available in a variety of shapes, size and finishes offering a practical option whether you're looking to cover a large surface area or create a feature.
EXPLORE TILES & FLOORING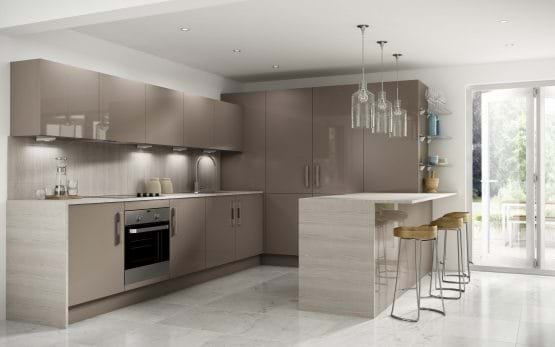 Installing underfloor heating to your new fitted kitchen comes with many benefits. They are especially essential if your kitchen is of a smaller scale as they can create space for extra storage that bulky radiators often take up. If you are considering underfloor heating it is best to install prior to cabinets and flooring.
EXPLORE UNDERFLOOR HEATING
Splashbacks are the perfect alternative to tiling as they protect your kitchen from the daily assault of water, from splashes to spitting. Splashbacks can also contribute to adding a statement to the rest of your kitchens aesthetic.
EXPLORE SPLASHBACKS
Adorning your kitchen walls with paint will not only add a splash of colour, but will also protect your walls from the many assaults that happen in areas with high moisture levels.  Kitchen paints are expertly formulated with special resistant technology to prevent this.
EXPLORE PAINT
OUR SERVICES
Leekes is an award winning family-owned retailer with a proud heritage in turning houses into homes and understand that the kitchen is at the heart of any home. We have an extensive range of kitchen styles to choose from, with over 40 designs on display across our stores to suit any style and budget.
Planning
Free home visit by experienced designer and free pre-fit survey with an independent approved installer.
Design
Extensive in store displays of up to 40 kitchens to suit all spaces, styles and budgets.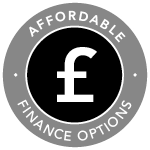 Purchase
Spread the cost with affordable finance options.
Guarantee
We take pride in our services and ensure our suppliers provide us with goods of an appropriate quality.
Finishing Touches