At Leekes we understand how important the planning stage of your kitchen is. The kitchen truly is the heart of your home and as a home project it is one of the most exciting and enjoyable projects to undertake. It can also be very time consuming, which is why we have put together some helpful tips on the most important things to consider when planning a new kitchen. From deciding on your layout and budget to inspiration and finishing touches.
Single ovens are the most popular cooking choice when it comes to integrated cooking appliances. Single ovens can be built in to in-column oven housing units at eye level or built under your counter. When built under they are usually situated under your hob in a standard configuration.
Single ovens are usually 60cm high and 60cm wide. Oven capacity can vary between around 65 litres and 72 litres. If you intend on cooking family meals, opt for a larger capacity oven as these offer greater flexibility when cooking and are especially useful for baking.
Each manufacturer has unique features when it comes to any cooking appliance so be sure to check the programs that are available and more importantly which functions you're likely to use.
A number of single ovens also offer pyrolytic cleaning functions meaning that high temperatures are used to burn away food residue, then you can simply wipe it away.
Double ovens are a popular choice for those wanting additional cooking space. Again, double ovens can be located at eye level and built in to an in-column oven housing. If you are wanting to build your double oven under your counter top you will need to look for specific built under double oven models, this is because they vary in size.
The top oven is used primarily as the grill function as it is smaller than the bottom oven but is handy for additional oven space when cooking larger meals like Christmas dinner. The bottom oven, the larger of the two is where you would do the majority of your cooking and baking.
If you are making the move from a freestanding cooker to an integrated oven option the configuration of a double oven is very similar to that of a freestanding cooker and will be more familiar to you in terms of setup. Single ovens may offer more technology and functions than a double oven however, so this might be something to bear in mind when making your choice.
COMPACT COMBINATION OVENS
Compact ovens are small but mighty and come packed with a number of varying features. Most compact appliances are multi functional and can be used as both oven and microwave. Another feature of a compact appliance is steam. If you are looking for a steam oven you will find a number of options in this size, whereas full sized steam ovens are limited based on the manufacturer.
Compact appliances are usually 45cm high and 60cm wide. It is important to remember that if you are opting for a side by side combination that your fascia panels line up exactly to ensure a streamline look. You would then usually pair this with a 14cm warming drawer underneath to balance the configuration.
MICROWAVES
A microwave is an appliance we use more often than we'd like to think and integrating your microwave is a great idea, especially if you want a clutter-free work surface.
You have the option to have a microwave only or to combined the main microwave functionality with a secondary oven function. A built in microwave is a more affordable option compared with a compact appliance with an additional microwave function meaning if the compact oven functionality is not going to be used this is a great alternative. Again you can configure this in a bank of appliance and alternatively above or below your single oven.
Range cookers are the perfect appliances for cooking big meals all in one place. Offering a number of different fuel and configuration options. Sizes vary between 90cm, 100cm and 110cm.
When considering fuel options you have a number to choose from. Dual Fuel offers an electric oven and a gas hob, your other options include all gas – although it is worth bearing in mind that this limits your options in terms of styles and sizes. LPG conversion kits are also available for some all gas models and finally, all electric with a choice of induction or ceramic hob.
Like integrated ovens you can opt for a double oven or single oven, some also include a warming section.
Range cookers aren't just for traditional kitchens with a number of brightly coloured and modern sleek designs also available. Range cookers make a big statement in a kitchen and is often the focal point of the room.
Ask our experts in store for more information.
OUR SERVICES
Leekes is an award winning family-owned retailer with a proud heritage in turning houses into homes and understand that the kitchen is at the heart of any home. We have an extensive range of kitchen styles to choose from, with over 40 designs on display across our stores to suit any style and budget.
Planning
Free home visit by experienced designer and free pre-fit survey with an independent approved installer.
Design
Extensive in store displays of up to 40 kitchens to suit all spaces, styles and budgets.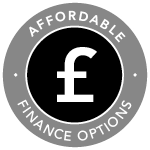 Purchase
Spread the cost with affordable finance options.
Guarantee
We take pride in our services and ensure our suppliers provide us with goods of an appropriate quality.
Cooking Appliance Buying Guide