Choosing a new kitchen is an exciting project but it can be stressful and time-consuming, so it's vital that you take plenty of time to consider exactly what you want.  An island can be centrally installed to provide additional work surface. Although every home is different, these are the classic layouts such as: L-shaped kitchens that are built into a corner, U-shaped kitchens which surround the cook on three sides, galley kitchens, and single run and double run galley kitchens that showcase continuous runs of cabinets.
DIFFERENT KITCHEN LAYOUTS
L-SHAPED LAYOUT
Just as the name implies, L-Shaped layouts consist of the units and worktops occupying two adjacent walls which makes it easier for two people to prepare food at the same time. This multi-functional feature makes this layout very popular as it gives you flexibility over the use of space. L-Shaped layouts are a particularly great choice for small kitchens or open plan spaces where you may want to add an island.
GALLEY KITCHEN LAYOUT
With their names originating from the galleys of ships and aeroplanes where food preparation took place in narrow spaces, the galley layout emphasises the efficient use of available space. The galley layout expertly places all units and worktops on two sides of the kitchen, which then results in a restricted narrow area to move around between them. However, in contrast to the L-shaped layout, the galley layout does not leave much room for socialising, and it may start to feel cramped very quickly.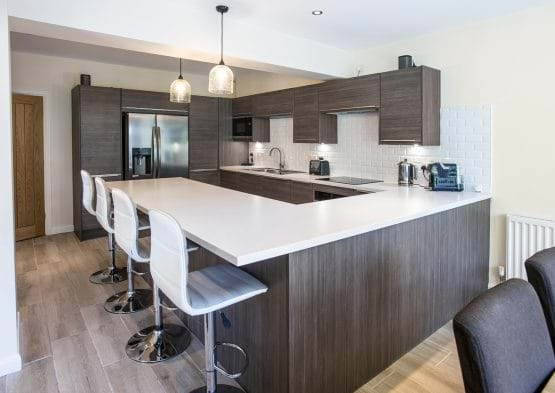 U-SHAPED LAYOUT
This traditional layout places the units and worktops along three of the four available walls which results in plenty of storage and worktop space. However, this reduces the sufficient space for a central table and hinders the social and/or eating aspects. A solution that eliminates this problem is installing an island, but be mindful for safety and convenience as you'll need to leave space between the island and the units.
Layout