There are so many different ways to cleverly incorporate additional storage solutions to maximise your kitchen space.
DIFFERENT STORAGE SOLUTIONS
ISLANDS
The installation of an island acts as both a worktop and additional storage which makes it a functional focus in the kitchen. This can be maximised by adding wine storage or bookshelves, and with the additional option of bar stools, the island can be used to enjoy meals too.
WICKER BASKETS & WOODEN BOXES
Wooden packing crates and wicker baskets provide endless uses as they can be stacked up to freshly store fruit and vegetables. This versatile storage idea can be maximised by placing the boxes and baskets inside your cupboards to create levels and ensure utensils and other gadgets are under control. Aesthetically, wooden boxes and wicker baskets offer a rustic charm that complement country and traditional style kitchens.
DRAWER STORAGE AND DIVIDERS
Smaller utensils and appliances, such as cutlery, come in diverse sizes and therefore require different storage solutions. Resist temptation and avoid throwing everything into one drawer by introducing inserts and dividers that aid in storing specific items. Consider creating dividers on a shelf to store Tupperware and plates too. A built-in knife block is a great innovative choice as it allows you to store your knives with precision without taking up worktop space.
LARDERS
Ideal for storing more bulkier utensils and appliances, cupboards and larders ensure that frequently used items are kept within easy reach but still neatly tucked away to eliminate clutter. To maximise the insides of cupboard doors, install hooks and hangers to provide additional space for lids and other kitchen gear. Consider installing built-in racks to efficiently hold spices and herbs, and a solid bottom to hold heavier items such as a slow cooker.
CAROUSELS
Make full use of awkward corners and L-shapes with carousels that provide optimum storage. Working together, the tiers of baskets typically have a full 360 degree rotation to allow a swivel movement and easy access to all stored items such as tins, jars and dry ingredients. Carousels expertly ensure that hard to reach corners are not left sitting empty and unused.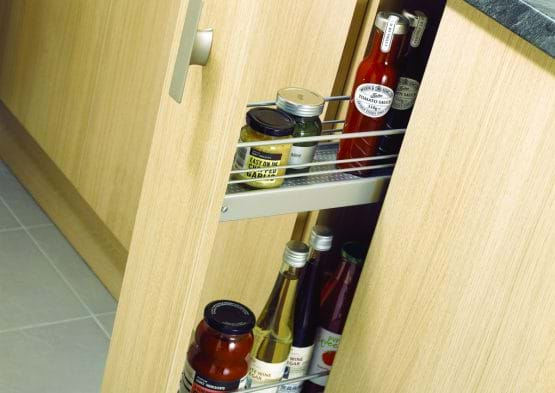 PULL OUT UNITS
Maximise your kitchen space with pull out units that discreetly store your everyday kitchen items in one gliding action. Pull out trays are engineered to keep all products upright which prevents any overcrowding and cluttering. Ideal for narrow spaces, pull out units are the perfect storage solution and claim the unused spaces in your cabinets.
Storage