Buying from Leekes you can guarantee fridges and freezers designed with the best quality and functionality and you can rest assured that you are receiving the highest standards of energy efficiency from top brands so that your food and drink is kept fresh for the best taste without wasting energy. Depending on your kitchen design you may prefer freestanding kitchen appliances that really make a statement or alternatively, built in kitchen appliances provide a sleek overall look.
From fridges, to freezers, to fridge freezers and wine cabinets, Leekes offers a full range of cooling appliances to suit every kitchen, with a lowest price guarantee*.
CHOOSING YOUR COOLING APPLIANCE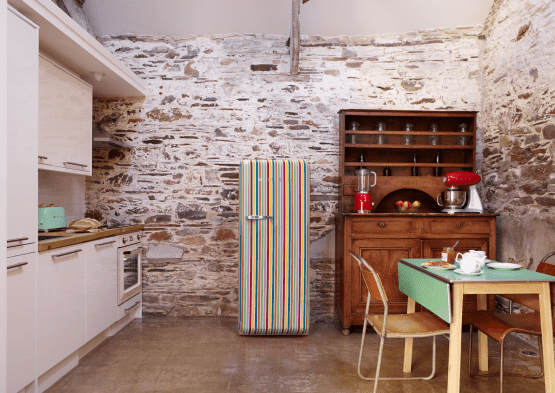 FRIDGES
The fridge is one of the most important kitchen appliances and with top brands including; Neff, AEG, Hotpoint and Smeg. At Leekes, we provide a wide selection of fridges that combine style, functionality and energy efficiency.
There are a wide range of sizes, styles and colours to complement your kitchen. Integrated in-column and under-counter fridges can be an economical space-saving option for your kitchen that blend in with the rest of the room. Alternatively an extensive selection of freestanding refrigeration is also available – these can really stand out and make a feature in your kitchen.
Refrigeration available at Leekes also sports impressive features including; antibacterial coating, shelves and fixtures, quiet working functions and ice and water dispensers, ensuring that you will find the best cooling appliances for you.
FREEZERS
Freezers ensure we lock away freshness, so choosing the right freezer solution for your new kitchen is vitally important and at Leekes we have the expertise to be able to assist you with your selection.
Whether you're looking for low frost or frost free options we will have something to suit your budget as well as leading brands such as; Neff, Siemens, AEG and Caple.
Much like refrigerators you have the option of built in or freestanding models. Depending on the amount of freezer space required you may wish to consider between under counter, in column or tall larder style designs.
There are also a number of stylish options that allow you to maximise the space within your appliances. Consider a side by side fridge and freezer as an alternative to an American style fridge freezer if you need the additional capacity.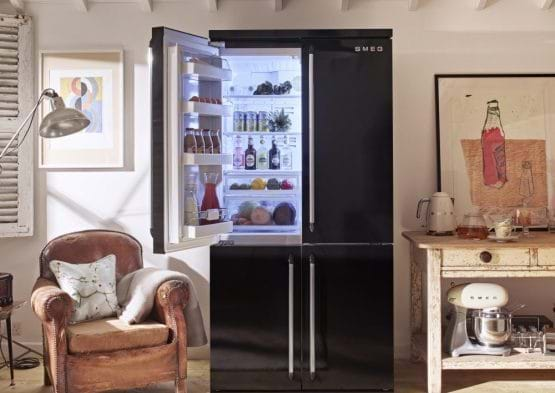 FRIDGE FREEZERS
There are so many options when it comes to fridge freezers. Like other cooling appliances you have built in or freestanding options available to you. You can also vary the size of each element depending on your usage.
If you prefer more cooling space as opposed to freezer space we have options for 60/40 or 70/30 splits as well as 50/50. If you are integrating your fridge freezer it is important to consider the style of your cabinets before deciding which option to go for.
American style refrigeration or side by side refrigeration is also an option especially as they can be a striking feature. French door fridge freezers and also drawer options are becoming increasingly popular. Remember that if selecting a dispensed water option many of these will need to be near plumbed water outlets.
Be sure to consider all of these factors when discussing your new kitchen with our designers so they can select the best option for you.
WINE CABINETS
Wine is a complex drink which continues to develop therefore it is important that it's stored in the correct conditions in order to allow for it to mature properly. Leekes' collection of  wine cabinets provide the perfect temperatures for both serving and storing wine in a single appliance and limit harmful vibrations from the compressor that can damage the taste.
Leekes selection of wine coolers come from top brands such as AEG, Caple and Siemens which constantly control the climate that best preserves and nurtures wine. With dual temperature regulation for both red and white wines, these specialised fridges not only look great but make the most of your wine.
Depending on how many bottles you want to store, coolers can be built in column or can be built under – there are also freestanding options available. Wine coolers can store between 6 and 140 bottles and our experts will find the best cooling solution for you and your home.
INNOVATIONS AND TRENDS IN COOLING
Refrigeration