Combining classic British designs with effortless functionality, Chippendale kitchens are all designed and made in their purpose built factory in Yorkshire. Using the latest manufacturing techniques along with their forward-thinking attitude and a natural flair for ingenuity, Chippendale kitchens are renowned for creating beautifully crafted kitchens that bring an air of elegance to the heart of any British home while complementing and enhancing a modern way of life.
The Chippendale kitchen collections are available in a range of classic and contemporary colours and finishes to suit any type of home.
CHIPPENDALE KITCHEN COLLECTION
Create a kitchen that is perfect for you and your home. A Chippendale kitchen is crafted to your own requirements using British techniques with a huge range of design options and accessories available.
CHIPPENDALE ABBEY IN INDIGO AND SKY
The  Abbey kitchen from Chippendale showcases traditional panelled doors with a matt painted finish available in twenty-one colours. Complete the look with brass handles for a contemporary edge.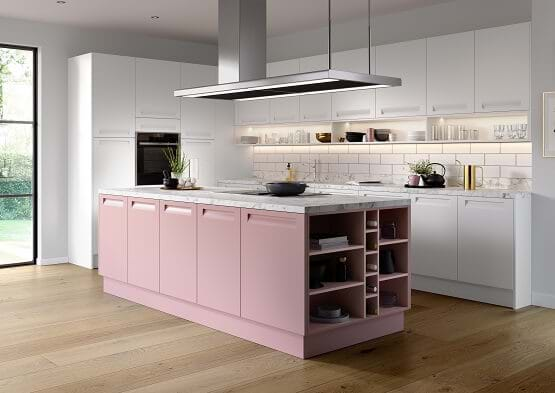 CHIPPENDALE AFFINITY IN BLUSH AND WHITE
Create a clean, contemporary kitchen with the Chippendale Affinity collection. Featuring painted slab style cabinets finished with recessed handles and two tone colour scheme the Affinity kitchen is ideal for modern living.
CHIPPENDALE VOGUE IN GRAPHITE
Instantly update a home with these smooth and sleek cabinets finished in matt paint using a dark colour scheme that is bang on trend. Complete the look with matching handles for a seamless look.
CHIPPENDALE MODA IN TURQUOISE AND GRAPHITE
This Shaker style kitchen from Chippendale elegantly combines form and function with floor to ceiling cabinets for extensive storage and painted matt finish for a contemporary look.
WHY CHOOSE A CHIPPENDALE KITCHEN?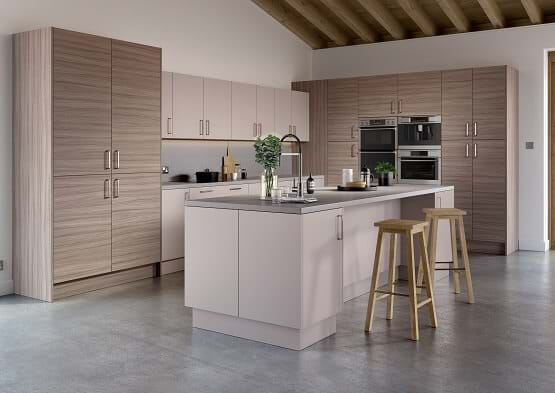 Designed for you
At Chippendale they believe that each kitchen is special and  love creating a space that is truly yours, that makes cooking and entertaining an effortless joy which is why each Chippendale kitchen is designed and created just for you.
Designed for life
 Chippendale kitchens are not only made to last, but they are design for life. From morning coffees to family dinners and everything between so every knock, burn and spillage that happens in your kitchen is anticipated by it's design.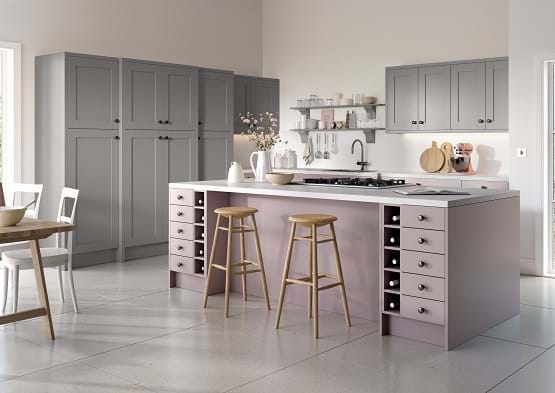 Made in Britain
Chippendale are very proud of their British heritage, and their reputation for designing and manufacturing durable, high-quality kitchens. All of which are made using the latest manufacturing techniques at their modern, purpose-built factory in Yorkshire.
EXPLORE OUR KITCHENS BRANDS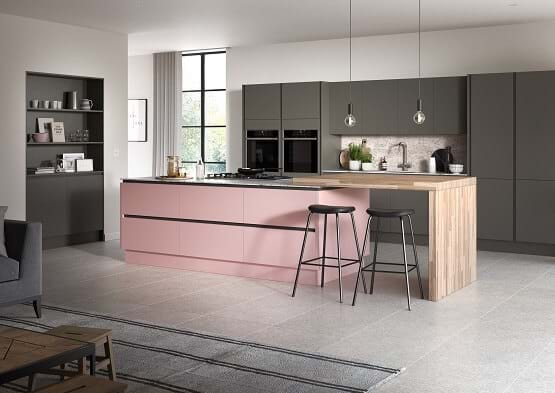 Sheraton
Modern kitchens hand crafted using traditional techniques. Sheraton kitchens offer beautifully British designs that are made to stand the test of time.
Laura Ashley
The simple beauty of Laura Ashley kitchens will suit any home. Discover the craftsmanship in each one of these timeless collections.
Casa
Discover a range of versatile options at affordable prices with the Casa kitchen collection. Available exclusively at Leekes.
Chippendale