Who said black has to be gloomy? In our black kitchens collection the darkest hues are chic statements that totally steal the show. In traditional kitchens darker shades work brilliantly as a stylish update to the classic look. In contemporary homes a modern black kitchen spells sophistication and glam. And with so many dark shades available, from pure black to the dark grey in the anthracite finishes, you can really bring your dream black kitchen to life.
Don't think you've got to go all in for pitch-black designs. Opt for black kitchen cabinets with light countertops for an eye-catching contrast or make a dark kitchen island the main attraction. And if you've got loads of natural light flooding into your home cooking haven, you might even get away with a splash of black on the kitchen walls too.
Black kitchens are bold, timeless and impossible to ignore. Check out the luxurious vibes in our collection below to find your perfect match.
FIND THE PERFECT BLACK KITCHEN FOR YOUR HOME
---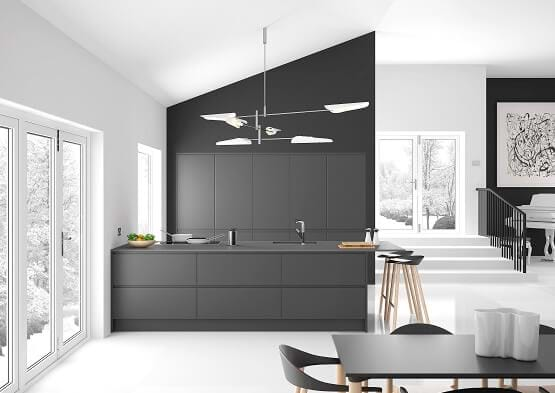 CASA NEW YORK IN ANTHRACITE
The nearly-black Anthracite colour option will add timeless elegance to your cooking space. The beauty of this black kitchen is boosted by simple lines and a completely handleless design.
DISCOVER CASA NEW YORK
ROTPUNKT HORIZON IN CARBON
This modern black kitchen isn't afraid to completely venture into the dark side: the black island, black cabinets and black open shelves come together into a flawless display of sophistication particularly suited for open-plan kitchens.
DISCOVER ROTPUNKT HORIZON
ROTPUNKT POWER IN CARBON
Embrace the dark in style. Rotpunkt offer a number of their modern kitchen cabinets in carbon. Combine this kitchen with open shelves and black appliances to make this kitchen design stand out.
DISCOVER ROTPUNKT POWER
ROTPUNKT RAW IN BLACK
The eye-catching style of the Raw kitchen in black combines deep grooves and knots in the wooden cabinets with industrial style shelving systems. Complete the look with contrasting light work surfaces.
DISCOVER ROTPUNKT RAW
BLACK KITCHEN DESIGN TIPS
---
Will black kitchen cabinets make your kitchen look smaller?
Not necessarily. If you love black kitchens there are so many ways to go around the rule that says black and small spaces don't go together. From opting for a gloss finish to keeping the countertops white and bringing in more light into your cooking space, smart design solutions can make black kitchen cabinets work in virtually every home.
Is an all-black kitchen a good idea?
You can also go all in with the dark shade. Just make sure you've got loads of natural light coming into your black kitchen and add a few colourful accent pieces such as a vase, a colourful painting or bright curtains.
How do you brighten up a black kitchen?
There are so many ways to embrace the dark shades while keeping the cramped feeling at bay. Here are a few tips:
Check out the rest of our kitchen colour ideas. See what the classic white kitchens in our collection can bring to your cooking space and why they've been such an everlasting favourite.
Book Your FREE Design Appointment
ABOUT YOUR DESIGN APPOINTMENT
Your design appointment is free, with no obligation.
Appointments can take place at home or in one of our extensive showrooms.
Visual concepts and 3D planning with your designer.
Project management throughout each stage of the design and installation.
Black Kitchens