Unleash your home's potential with a blue kitchen. Navy blue kitchens have been a big trend setter for several years and are showing no signs of slowing down, however navy isn't the only option when it comes to creating a blue kitchen.
From barley there hues to almost blacks, there is an almost infinite pallet of blue tones available, so whether you want to create a charming country cottage with pale shades of periwinkle or are aiming for a sophisticated sultry look with deep shades of sapphire, the possibilities are endless.
Browse some of our favourite blue kitchens below to find your perfect match.
FIND THE PERFECT BLUE KITCHEN FOR YOUR HOME
---
LAURA ASHLEY BEDALE IN COOKS BLUE
The Laura Ashley Bedale features a traditional style kitchen which has been perfectly updated to include contemporary features such as curved cabinets. Finished in Cook Blue this is the ideal kitchen for modern country living.
DISCOVER LAURA ASHLEY BEDALE
LAURA ASHLEY WHITBY IN SKYLON GREY
For a clean and contemporary look the Laura Ashley Whitby includes blue kitchen cabinets with matching blue painted walls and is complete with Belfast sink and oak worktops for a traditional finish.
DISCOVER LAURA ASHLEY WHITBY
LAURA ASHLEY HELMSLEY IN MIDNIGHT BLUE
For a modern look opt for a navy kitchen like the Helmsley in Midnight Blue. The dark blue painted cabinets contrasted with white marble worktop and copper handles and hardware are perfect for a modern home or restoration project.
DISCOVER LAURA ASHLEY HELMSLEY
SHERATON HARMONY IN INDIGO BLUE, SKY & SLATE
In case one blue isn't enough, the Sheraton Harmony incorporated three tone cabinets for a blue kitchen with a twist. The shades of navy, blue and grey all complement each other perfectly with floor to ceiling cabinets completing the look.
DISCOVER SHERATON HARMONY
SHERATON INSET CUBE IN DARK BLUE AND WOODGRAIN
Proof that a blue kitchen will work with any finish, the Inset Cube by Sheraton features a matt glazed finish with handleless cabinets for a sleek look and feel. Complete with copper accessories, this kitchen will prove to be a style icon for years to come.
DISCOVER SHERATON INSET CUBE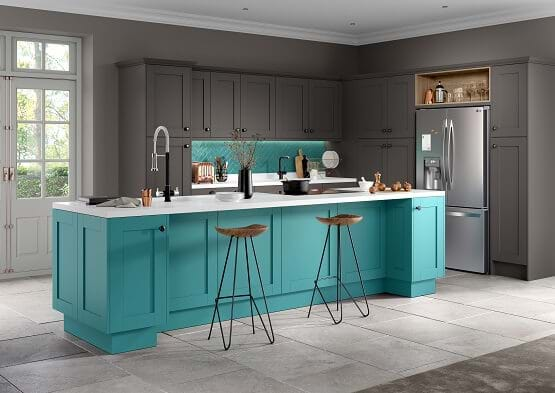 CHIPPENDALE MODA IN GRAPHITE AND TURQUOISE
For a blue kitchen with a twist, why not try turquoise? If you want to embrace a bright colour scheme but aren't ready to commit, create a focal point within the room with a statement island, complete with grey cabinets for a bright kitchen that isn't overbearing.
DISCOVER CHIPPENDALE MODA
WHAT COLOURS GOES BEST WITH A BLUE KITCHEN?
---
With an huge range of blue shades available, it should be no surprise that you also won't be limited for colours to go with your blue kitchen:
White
Whether you have chosen pale pastels or regal shades your blue kitchen can always be enhanced with white. From marble worktops to two tone cabinets, it couldn't be easier to  add white into a kitchen.
Wood 
As a natural colour, blue kitchens work well with any organic material such as wood. If you have opted for a navy kitchen, adding a wood with a honey tone such as oak will really warm up the room.
Metallic
Gold and copper shades are perfect additions to a blue kitchen. Whether you add them to a light blue kitchen for a warm, homely effect or contrast your inky blue kitchen for a contemporary look the possibilities and finishes are endless.
If you are looking to add a splash of colour to your kitchen but aren't sure if a blue kitchen is for you, check out the rest of our kitchen colour ideas including green kitchens and grey kitchens. 
Book Your FREE Design Appointment
ABOUT YOUR DESIGN APPOINTMENT
Your design appointment is free, with no obligation.
Appointments can take place at home or in one of our extensive showrooms.
Visual concepts and 3D planning with your designer.
Project management throughout each stage of the design and installation.
Blue Kitchens