The shaker kitchen is one of the most popular on the market due to it's versatile look and functional design. Shaker kitchens originated from the 17th century and can be easily identified by it's square cabinet framing with recessed panel. The clean and classic kitchen style offers a traditional look and feel however with the right colour scheme shaker kitchens can truly suit any age of property.
For traditional homes a shaker kitchen in a wood finish such as oak or timber will reflect a classic look. Create a country style kitchen with a neutral colour scheme with wood worktops. Or for a modern finish a painted coloured kitchen with statement handles will compliment any contemporary home.
Combine styles and finish for your desired look, chose from paint, wood or gloss to create your dream kitchen that suits your style perfect. Finish the room with appliances to match, from range cookers to sleek built in ovens – the possibilities are endless.
OUR SHAKER KITCHEN COLLECTIONS
---
LAURA ASHLEY WHITBY KITCHEN
This classic painted shaker kitchen offers a modern take on a farmhouse kitchen. Complete with soft colour pallet and open shelving for a contemporary finish.
EXPLORE LAURA ASHLEY KITCHENS
SHERATON MANOR HOUSE KITCHEN
This simple and uncluttered kitchen from Sheraton has both design and craftsmanship down to a tee. Expect quality and value for money with this kitchen style choice.
EXPLORE SHERATON KITCHENS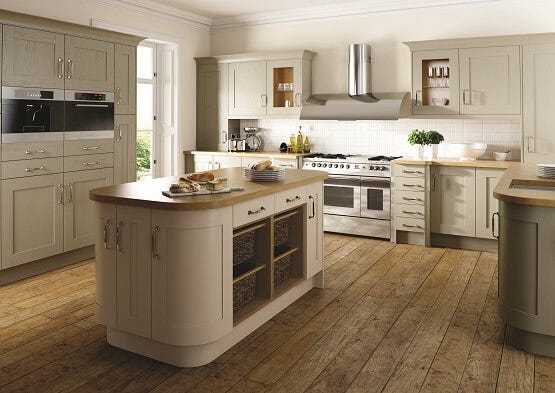 CHIPPENDALE WOOD SHAKER KITCHEN
This classic solid shaker kitchen with a distinctive wood grain effect is perfect for country style kitchens, whereas the rounded cabinets are ideal for a modern update.
EXPLORE CHIPPENDALE KITCHENS
CASA CRANBROOK KITCHEN
A popular choice, the Casa Cranbrook shaker kitchen offers a simplistic and minimal design that can suit all homes.
EXPLORE CASA KITCHENS
ROTPUNKT ERGO KITCHEN
The Rotpunkt Ergo is bold colour scheme and complete with statement handles is the perfect addition to any modern home.
EXPLORE ROTPUNKT KITCHENS
SHERATON BROAD STYLE KITCHEN
The Sheraton Broad Style offers style and practicality with a distinctive shaker look with wide cabinets for maximum storage.
EXPLORE SHERATON KITCHENS
DESIGN TIPS FOR YOUR SHAKER STYLE KITCHEN
---
ISLAND LIFE
Traditional Shaker style kitchens perfectly accommodate islands in their designs. Islands are typically formed of worktops and cabinets to provide additional storage and to keep cooking essentials close whilst you're preparing food.
STORAGE
Traditional Shaker kitchens would have been clutter free. Clever storage ideas now mean you can maximise the space within your kitchen cabinets. Larder style units are very popular and include drawer and basket options.
APPLIANCES
Matching your appliance to your kitchen style is important. At Leekes, we suggest integrating your dishwashing and laundry appliances, but perhaps consider introducing a feature range cooker as a focal point to your kitchen space.
LIGHTING
Stylish lighting solutions can really bring your Shaker kitchen to life. We suggest industrial style fittings as the perfect accompaniment to this always popular kitchen style. Cluster lights look great over islands and dining spaces.
EXPLORE MORE KITCHEN STYLES
---
Book Your FREE Design Appointment
ABOUT YOUR DESIGN APPOINTMENT
Your design appointment is free, with no obligation.
Appointments can take place at home or in one of our extensive showrooms.
Visual concepts and 3D planning with your designer.
Project management throughout each stage of the design and installation.
Shaker